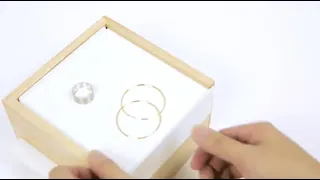 Umbra Stowit Mini Jewellery Box
Product Info
Delivery & Returns
Reviews
Product Info
Say hello to this Umbra Stowit Mini Jewellery Box cute, chic and compact. Designed with a practical display top, it has different sized storage drawers and even hidden compartments to keep your sentimental stuff safe Coming with protective rubber feet and linen fabric pads, itll keep everything inside and outside the box scratch-free. This durable modern wooden and metal box has sliding drawers to store all your favourite accessories. Inspired by product packaging that has hidden storage inside its the perfect blend of style and functionality. Shop the Umbra Stowit Storage Box the larger version of the same design.
Material
Wood and Metal
Features
Modern design jewellery box, space-saving, large display top, private hidden storage, protective rubber feet and linen fabric pads
Dimensions
15 x 17 x 11cm
Weight
3.00 lbs
Delivery & Returns
UK Delivery Service
Cost

Standard UK Delivery (2-5 days)

£4.95 or Free for orders over £50

Express Delivery
(Order before 2pm)

£7.95 
Standard Delivery
We offer Standard Delivery across the UK via Royal Mail. Standard Delivery is FREE for orders with a goods value of over £50. For orders with a goods value of less than £50 we charge a flat fee of £4.95.
Standard Delivery means that our aim is that for all orders received before 2pm Monday to Friday (excluding Bank Holidays) we will despatch on the same day with your order delivered within the next 2 to 5 working days. (Subject to external factors such as severe weather).
Express Delivery
We offer Express Delivery within mainland UK via DPD. Delivery is £7.95 and orders must be received before 2pm.
For more information please see our Delivery Information page here
International Delivery
Due to the rapidly changing situation around COVID-19 and the borders to Europe, we have temporarily paused shipping to Europe & Republic of Ireland.
View our International Delivery options here 
Returns
For information on Returns please see here
Reviews