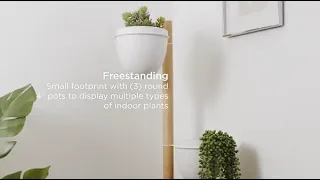 Product Info
Delivery & Returns
Reviews
Product Info
The freestanding Floristand Planter by Umbra is an eye-catching, contemporary design that will perfectly bring the lush greenery of the outdoors inside. Modern and minimalistic, this freestanding planter is a unique way to showcase your plants, featuring three curved pots that contain removable pots for easy planting and removal. Crafted from powder-coated metal and real wood, it creates the perfect fusion of modern urban living and natural materials, with a weighted base and sturdy central post that ensures your plants stay upright. Neat and tidy allowing this planter to be placed pretty much anywhere.
Available in Black & Walnut, White & Natural
Material
Beech Wood
Powder Coated Metal
Dimensions
Length: 17.35 Inches
Width: 17.35 Inches
Height: 55 Inches
Weight: 7.58lbs
Features
Floristand fits neatly in corner spaces in any living room, dining room, bedroom, office, and more
Floristand has a weighted base and a sturdy post to ensure your plants have a secure hold
Please see the Umbra Instruction Guide here
Delivery & Returns
UK Delivery Service
Cost

Standard UK Delivery (2-5 days)

£4.95 or Free for orders over £50

Express Delivery
(Order before 2pm)

£7.95 
Standard Delivery
We offer Standard Delivery across the UK via Royal Mail. Standard Delivery is FREE for orders with a goods value of over £50. For orders with a goods value of less than £50 we charge a flat fee of £4.95.
Standard Delivery means that our aim is that for all orders received before 2pm Monday to Friday (excluding Bank Holidays) we will despatch on the same day with your order delivered within the next 2 to 5 working days. (Subject to external factors such as severe weather).
Express Delivery
We offer Express Delivery within mainland UK via DPD. Delivery is £7.95 and orders must be received before 2pm.
For more information please see our Delivery Information page here
Lead Time Delivery
Lead Time Delivery applies to items that are available for sale, but are not held in our warehouse and cannot be immediately despatched. 
An estimated delivery lead-time is quoted on the product page, and will also be confirmed by email shortly after an order is placed.
In most instances, lead-time items will be delivered by Royal Mail. In the instance of larger / furniture items, the delivery may be carried out by a White-Glove Courier.
Lead Time Delivery is free for orders with a goods value of over £50. For orders with a goods value of less than £50 we charge a flat fee of £4.95.
International Delivery
Due to the rapidly changing situation around COVID-19 and the borders to Europe, we have temporarily paused shipping to Europe & Republic of Ireland.
View our International Delivery options here 
Returns
For information on Returns please see here
Reviews