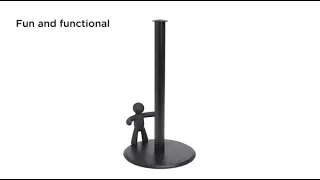 Umbra Buddy Paper Towel Holder, Black
Product Info
Delivery & Returns
Reviews
Product Info
The Umbra Buddy Paper Towel Holder, Black, is ready to give you a hand in the kitchen. A functional and fun design, this soft-touch paper towel holder adds a modern touch to your kitchen, whilst providing tension to keep the roll in place for an easy one-handed tear Using a combination of metal and bold black moulded plastic, its sturdy and lightweight at the same time. Sleek, elegant and playful shop other items from the Buddy collection to finish your home.
Colour
Black
Material
Moulded Plastic and Metal
Features
Quick loading, easy to clean, matching items available
Dimensions
18 x 18 x 34cm
Weight
2.00 lbs
Delivery & Returns
UK Delivery Service
Cost

Standard UK Delivery (2-5 days)

£4.95 or Free for orders over £50

Express Delivery
(Order before 2pm)

£7.95 
Standard Delivery
We offer Standard Delivery across the UK via Royal Mail. Standard Delivery is FREE for orders with a goods value of over £50. For orders with a goods value of less than £50 we charge a flat fee of £4.95.
Standard Delivery means that our aim is that for all orders received before 2pm Monday to Friday (excluding Bank Holidays) we will despatch on the same day with your order delivered within the next 2 to 5 working days. (Subject to external factors such as severe weather).
Express Delivery
We offer Express Delivery within mainland UK via DPD. Delivery is £7.95 and orders must be received before 2pm.
For more information please see our Delivery Information page here
Lead Time Delivery
Lead Time Delivery applies to items that are available for sale, but are not held in our warehouse and cannot be immediately despatched. 
An estimated delivery lead-time is quoted on the product page, and will also be confirmed by email shortly after an order is placed.
In most instances, lead-time items will be delivered by Royal Mail. In the instance of larger / furniture items, the delivery may be carried out by a White-Glove Courier.
Lead Time Delivery is free for orders with a goods value of over £50. For orders with a goods value of less than £50 we charge a flat fee of £4.95.
International Delivery
Due to the rapidly changing situation around COVID-19 and the borders to Europe, we have temporarily paused shipping to Europe & Republic of Ireland.
View our International Delivery options here 
Returns
For information on Returns please see here
Reviews