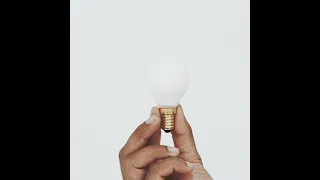 Tala Porcelain I LED Bulb, 3W
Product Info
Delivery & Returns
Reviews
Product Info
This Porcelain I, 3W LED Bulb from Tala is ideal for brightening your home as part as a light display or on its own. Made from porcelain and featuring an LED Filament that is energy saving and environmentally friendly, this light bulb is a must for an exciting and fashionable way to light your home. 
Please see specifications here
Dimensions
4.5 x 8cm
Features
Matte Glass Finish
Dimmable LED Filament
Edison Screw Base Cap
Reduce Energy Use by up to 90%
Specification
Equivalent incandescent power - 24W
Input voltage - 220V-240V
Glass finish - Matte porcelain
Working temperature - -5°C – 40°C
Colour temperature - 2,700
Care
Clean with a soft dry cloth, whilst the light is switched off
Manufacturers Warranty
Fixtures - one year provided that no modifications have been made &ndash e.g. cable length
Bulbs - 3 years
Delivery & Returns
UK Delivery Service
Cost

Standard UK Delivery (2-5 days)

£4.95 or Free for orders over £50

Express Delivery
(Order before 2pm)

£7.95 
Standard Delivery
We offer Standard Delivery across the UK via Royal Mail. Standard Delivery is FREE for orders with a goods value of over £50. For orders with a goods value of less than £50 we charge a flat fee of £4.95.
Standard Delivery means that our aim is that for all orders received before 2pm Monday to Friday (excluding Bank Holidays) we will despatch on the same day with your order delivered within the next 2 to 5 working days. (Subject to external factors such as severe weather).
Express Delivery
We offer Express Delivery within mainland UK via DPD. Delivery is £7.95 and orders must be received before 2pm.
For more information please see our Delivery Information page here
Lead Time Delivery
Lead Time Delivery applies to items that are available for sale, but are not held in our warehouse and cannot be immediately despatched. 
An estimated delivery lead-time is quoted on the product page, and will also be confirmed by email shortly after an order is placed.
In most instances, lead-time items will be delivered by Royal Mail. In the instance of larger / furniture items, the delivery may be carried out by a White-Glove Courier.
Lead Time Delivery is free for orders with a goods value of over £50. For orders with a goods value of less than £50 we charge a flat fee of £4.95.
International Delivery
Due to the rapidly changing situation around COVID-19 and the borders to Europe, we have temporarily paused shipping to Europe & Republic of Ireland.
View our International Delivery options here 
Returns
For information on Returns please see here
Reviews