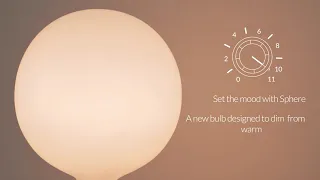 Tala Knuckle Table Lamp Blackened Oak with Sphere IV Bulb
Product Info
Delivery & Returns
Reviews
Product Info
The Tala Knuckle Table Lamp in Blackened Oak with Sphere IV Bulb will fill any room in your home with both style and light. The knuckle lamp has been crafted from blackened Oak perfectly finished with a polished gunmetal base, to give a dark and distinctive finish you are sure to love. Teamed with Tala's Sphere IV Bulb which features a matte white finish and provides maximum dimming performance with its dim to warm technology. The carefully selected in-line dimmer means you can create the perfect light in any room in your home. All seamlessly finished with a weighted, tilt-resistant base which means it will always stand proudly anywhere in your home.
Please see specifications here
Dimensions
150 mm x 280 mm
Features
Sphere IV bulb included
Black painted solid Oak
Minimal waste production
Dim to Warm behaviour

In-line dimmer

3m grey braided PVC cord
Weighted, tilt-resistant base

Polished gunmetal grey finish
Specifications
Working temperature
-5°C – 40°C
Delivery & Returns
UK Delivery Service
Cost

Standard UK Delivery (2-5 days)

£4.95 or Free for orders over £50

Express Delivery
(Order before 2pm)

£7.95 
Standard Delivery
We offer Standard Delivery across the UK via Royal Mail. Standard Delivery is FREE for orders with a goods value of over £50. For orders with a goods value of less than £50 we charge a flat fee of £4.95.
Standard Delivery means that our aim is that for all orders received before 2pm Monday to Friday (excluding Bank Holidays) we will despatch on the same day with your order delivered within the next 2 to 5 working days. (Subject to external factors such as severe weather).
Express Delivery
We offer Express Delivery within mainland UK via DPD. Delivery is £7.95 and orders must be received before 2pm.
For more information please see our Delivery Information page here
Lead Time Delivery
Lead Time Delivery applies to items that are available for sale, but are not held in our warehouse and cannot be immediately despatched. 
An estimated delivery lead-time is quoted on the product page, and will also be confirmed by email shortly after an order is placed.
In most instances, lead-time items will be delivered by Royal Mail. In the instance of larger / furniture items, the delivery may be carried out by a White-Glove Courier.
Lead Time Delivery is free for orders with a goods value of over £50. For orders with a goods value of less than £50 we charge a flat fee of £4.95.
International Delivery
Due to the rapidly changing situation around COVID-19 and the borders to Europe, we have temporarily paused shipping to Europe & Republic of Ireland.
View our International Delivery options here 
Returns
For information on Returns please see here
Reviews