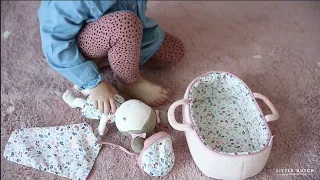 Little Dutch Baby Rosa Doll, Spring Flowers
Product Info
Delivery & Returns
Reviews
Product Info
The soft and cuddly Little Dutch Baby Rosa Doll will offer your little one hours of fun, caring for her in a playful way. Baby Rosa is a soft doll that is perfect to cuddle and comes with a carrycot and accessories, so your little one has all they need to care for her. Your little one can feed her with the bottle or calm her down with the dummy. They can change her nappy, put on a cap, and tuck her in with a blanket. Rosa also loves a trip out in her cute travel basket.
Minimum Age
12+ Months
Material
100% Polyester
Features
Spring flowers collection
1 soft doll in a cradle with accessories
Delivery & Returns
UK Delivery Service
Cost

Standard UK Delivery (2-5 days)

£4.95 or Free for orders over £50

Express Delivery
(Order before 2pm)

£7.95 
Standard Delivery
We offer Standard Delivery across the UK via Royal Mail. Standard Delivery is FREE for orders with a goods value of over £50. For orders with a goods value of less than £50 we charge a flat fee of £4.95.
Standard Delivery means that our aim is that for all orders received before 2pm Monday to Friday (excluding Bank Holidays) we will despatch on the same day with your order delivered within the next 2 to 5 working days. (Subject to external factors such as severe weather).
Express Delivery
We offer Express Delivery within mainland UK via DPD. Delivery is £7.95 and orders must be received before 2pm.
For more information please see our Delivery Information page here
International Delivery
Due to the rapidly changing situation around COVID-19 and the borders to Europe, we have temporarily paused shipping to Europe & Republic of Ireland.
View our International Delivery options here 
Returns
For information on Returns please see here
Reviews