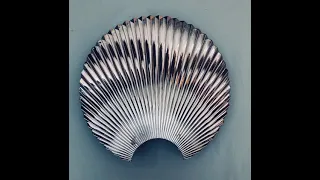 AYTM Concha Shell Hook, Silver
Product Info
Delivery & Returns
Reviews
Product Info
Add a glamourous, vintage feel to any wall in your living space with an AYTM Concha Shell Hook, Silver. Coming in four sizes; choose from extra small (H 11.5cm), small (H 15.5cm), medium (H 19.5cm) or large (H 23.5cm). Decide on the best hook for your needs, or make a feature and go for one of each size. These designer decorative hooks are made from zamak with chrome plating; perfect for hanging clothes in your bedroom or a towel in the bathroom. 
Colour
Silver
Material
Zamak with Chrome-plating
Features
Decorative wall hook, available in four sizes
Dimensions
Extra Small - H:11.5 x W:12 x L:4.3cm
Small - H:15.5cm x W:16 x L: 4.3cm
Medium - H:19.5cm x W:20 x L:4.3cm
Large - H:23.5cm x W:24 x L:4.3cm
Delivery & Returns
UK Delivery Service
Cost

Standard UK Delivery (2-5 days)

£4.95 or Free for orders over £50

Next Working Day Delivery
(Order before 2pm)

£7.95
Royal Mail Strike Action
Please note Royal Mail strike action is expected to take place on the Thursday 24th, Friday 25th, Wednesday 30th of November and Thursday 1st December. We will not, therefore, have collections on these days. Inevitably this means that there will be significant delays to our standard delivery service during this period, this will be exacerbated by the increase in expected parcel volumes due to Black Friday promotions. We anticipate that delays will continue for some days after the last strike until the backlog is dealt with. Unfortunately this is completely outside of our control. We ourselves will continue to process all orders promptly and we thank you in advance for your patience.
If you need to be certain your parcel will be delivered promptly we firmly recommend using our next working day delivery service as this will not be affected by the strikes. In this case please select this option at checkout.
Standard Delivery
We offer Standard Delivery across the UK via Royal Mail. Standard Delivery is FREE for orders with a goods value of over £50. For orders with a goods value of less than £50 we charge a flat fee of £4.95.
Standard Delivery means that our aim is that for all orders received before 2pm Monday to Friday (excluding Bank Holidays) we will despatch on the same day with your order delivered within the next 2 to 6 working days. (Subject to external factors such as severe weather).
Next Working Day Delivery
We offer Next Working Day delivery within mainland UK via DPD. Delivery is £7.95 and orders must be received before 2pm.
For more information please see our Delivery Information page here
International Delivery
Due to the rapidly changing situation around COVID-19 and the borders to Europe, we have temporarily paused shipping to Europe & Republic of Ireland.
View our International Delivery options here 
Returns
For information on Returns please see here
Reviews