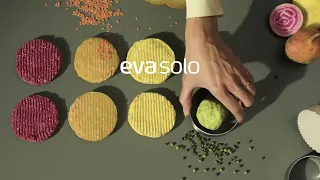 Eva Solo Green Tool Burger Press
Product Info
Delivery & Returns
Reviews
Product Info
Make the perfect burgers this summer with an Eva Solo Green Tool Burger Press! Impress friends and family with beautifully round burgers made quickly and easily; whether that's meat burgers, veggie burgers or vegan root vegetable röstis. The simple design with solid handle makes this stylish press super easy to use and clean. Part of the Green Tools Collection, a series of functional and sustainable cookware, it's crafted from stainless steel and sustainable composite. 
Colour
Natural
Materials
Sustainable Composite (50% wheat fibres / 50% plastic), Stainless Steel
Features
Burger press, shapes hamburgers quickly and easily, simple design and solid handle make it easy to use, easy to clean and dishwasher-safe
Design by
Tools®
Dimensions
D 9cm, H 7cm
Delivery & Returns
UK Delivery Service
Cost

Standard UK Delivery (2-5 days)

£3.90 or Free for orders over £50

Next Working Day Delivery
(Order before 2pm)

£7

Christmas Delivery
Please note that the final cut off for pre-Christmas delivery on the next-working day service will be Thursday 23rd December at 2pm. We highly recommend opting for our next-working day delivery service for any orders placed week commencing 20th December that are required before Christmas.
Whilst our standard parcel delivery service continues to meet its targets in most cases, Christmas volumes are expected to put additional pressure on our trusted couriers, this is unfortunately outside of our control. We continue to do everything we can to despatch your order as fast as possible. Ongoing covid measures mean that you will not be required to sign for a parcel, our couriers will sign on your behalf, noting the recipients name and confirmation of delivery. If you need your order quickly, we recommend choosing our Next Working Day option at checkout. For oversized deliveries unfortunately covid restrictions mean only doorstep delivery is possible currently, a white glove service to inside your home is not possible. 
For more information please see our Delivery Information page here
International Delivery
Due to the rapidly changing situation around COVID-19 and the borders to Europe, we have temporarily paused shipping to Europe & Republic of Ireland.
View our International Delivery options here 
Returns
For information on Returns please see here
Reviews